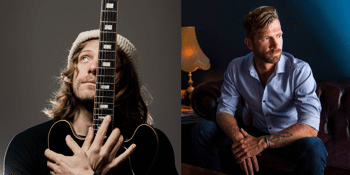 Onya Soapbox presents
Owen Campbell & Jesse Redwing
The Great Club (Marrickville, NSW)
Saturday, 3 February 2024 7:30 pm
Owen & Jesse are playing this rollicking rock n blues show together with two 60min sets and then a 30min set as a super band.
Owen Campbell
Owen Campbell is an Australian singer-songwriter and guitarist who has cemented himself as one of Australia's premier alternative blues/rock exports with 3 best-selling studio albums, 2 EPs, and over 15 years of national and international touring. With a distinct blend of blues, folk, and roots influences, Campbell's music weaves stories of love, loss, and human resilience. His emotive vocals and impeccable guitar skills have earned him a devoted fanbase, while his genuine authenticity and magnetic stage presence leave audiences spellbound. Owen Campbell's musical journey continues to evolve, leaving an indelible mark on the hearts of music lovers everywhere.
Every one of Owen's albums has hit the Top 10 on iTunes Blues Charts in over 10 countries.
"A well-honed, ageless style, one that never seems to lose its conjuring powers."
BMA Magazine
"Campbell possesses an exceptional musical personality. You wholeheartedly believe every note he plays and sings."
Rhythms Magazine
Jesse Redwing
Jesse Redwing has honed his chops in smoky juke joints all over the world for damn near two decades now. On top of touring Europe and the USA with the Jesse Redwing band, Jesse has supported such acts as Cedric Burnside, Jon Cleary, Cold Chisel, The Teskey Brothers and Ana Popovic. A track off Jesse's debut album "Crawlin' Up the Walls" was featured on hit Netflix show "Shooter". He has released two original albums, Comin' on and Light My Way, as well as two live records Live and Lascivious. and Blues on the Mountain. His third studio album, produced by Stephen Mowat, is due for release later this year. Jesse's honest, down-to-earth playing translates well whether he plays solo or with his smokin' hot band. He is guaranteed to fill your cup with his contemporary take on the timeless soulful sounds of the blues legends.
"Blues hustlers creating some contagious grooves, with a soft rock and roll edge that fuses together deep-rooted Chicago blues oracles such as Howlin' Wolf and Muddy Waters, with British rock mimics ala The Rolling Stones. A must-see."
Happy Mag