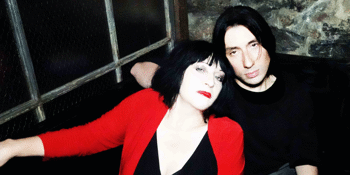 Press Play presents
Lydia Lunch & Joseph Keckler
"Tales of Lust & Madness"
The Great Club (Marrickville, NSW)
Friday, 22 March 2024 7:30 PM
Two of New York's most one-of-kind performers join forces on this double bill, marking a triumphant return to Australia for Lydia Lunch and a debut for Joseph Keckler. In back-to-back sets, Lunch's legendary, spellbinding prose and Keckler's haunting and tricksterish songs promise an intimate evening of musical and linguistic intrigue.
LYDIA LUNCH
is passionate, confrontational and bold. Whether attacking the patriarchy and their pornographic war mongering, turning the sexual into the political or whispering a love song to the broken hearted, her fierce energy and rapid fire delivery lend testament to her warrior nature.
Queen of No Wave, muse of The Cinema of Transgression, writer, musician, poet, spoken word artist and photographer, she has released too many musical projects to tally, has been on tour for decades, has published dozens of articles, half a dozen books and simply refuses to just shut up. She performs in a variety of mediums, is a rabid collaborator and continues to release new music as well as re-issuing classic material from her vast catalogue of written and musical works.
Since 2019 she has been hosting The Lydian Spin a weekly podcast (which featured Joseph on episode 84), as well as dozens of musicians, artists, writers and filmmakers in conversation.
Her decades long career is the subject of The War is Never Over, a feature length documentary by Beth B –which is presently touring the UK, Europe and the USA throughout 2021 and into the spring of 2022.
JOSEPH KECKLER
is a singer, writer, songwriter and multifaceted creator known for his dynamic live performances, haunting songs, and humorous stories that transform episodes of daily life into affecting and absurd underworld voyages. Hailed by The New York Times as a "major vocal talent with a trickster's dark humor and a range that shatters the conventional boundaries," he has performed everywhere from punk dives to the popular NPR Tiny Desk Concert series, and venerable institutions such as Lincoln Center, Center Pompidou and Yale.
He was also the national support act for rock band Sleater-Kinney in 2019. His debut collection of essays and stories, Dragon at the Edge of a Flat World was published by Turtle Point Press. He wrote, scored and stars in the forthcoming feature film No Midnight directed by Laura Terruso and is working on an EP to come out in 2024.
https://www.lydia-lunch.net
https://www.facebook.com/LydiaLunch/
On My 43rd Birthday
https://vimeo.com/manage/videos/872600641
Ghost Town
https://vimeo.com/manage/videos/872589985
Live at the Slipper Room NYC -
Introduction to Lydia Lunch -
https://www.youtube.com/watch?v=lbtaEGk30Qw
War is Never Over Movie Trailer -
https://www.youtube.com/watch?v=NzhsZUHJniM
Joseph Keckler
josephkeckler.com
In Concert -
https://www.youtube.com/watch?v=LaSNN5lPW6g
Introduction to Joseph Keckler -
https://www.youtube.com/watch?app=desktop&v=uYFbzHH9ZVY